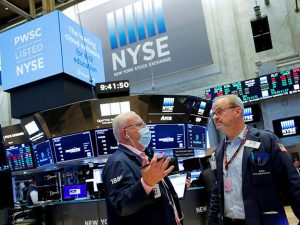 Bloomberg
US stocks rise as investors await the release of policy minutes from the Federal Reserve's latest meeting for potential signs that the central bank may slow its pace of interest-rate hikes.
The S&P 500 climbed after closing at its highest level since mid-September. The Nasdaq 100 jumped after wavering as the session started. Sentiment was boosted after latest data showed US consumers dialing back short-term inflation expectations. Market trading volumes are expected to be lighter, given the US Thanksgiving holiday on Thursday.
Treasuries pared the gains it notched after weaker-than-expected purchasing managers' index readings for November. A gauge of dollar strength dipped after data showed that US unemployment applications rose more than expected, in a sign of cooling in the labour market. Oil fell as the European Union discussed imposing a price cap on Russian oil between $65 and $70 a barrel.
The publication of minutes from the Fed's November 1-2 meeting will be studied for how united policy makers were over a higher peak for interest rates than previously signalled in their fight against inflation. However, since that meeting, investors have parsed a bevy of economic data that somewhat eased inflation concerns. That, along with recent rhetoric from Fed speakers, has made some investors anticipate the central bank will moderate its pace of rate hikes soon.
"2022 was a year marked by extremely expensive starting valuations, resilient growth, very high inflation, and then very hawkish policy," said Andrew Sheets, Morgan Stanley chief cross asset strategist, on Bloomberg TV. "When we think about next year, all those elements are somewhat different. Valuations have normalised. We think growth will be weaker, but inflation will be lower and policy will be a lot less hawkish."
The "corrective price action" in the dollar, oil and Treasury yields suggests the market thinks peak inflation is behind us, says Craig Johnson, Piper Sandler's chief market technician.
European investors, meanwhile, digested data showing that private-sector activity in Germany and France — the euro area's top two economies — contracted in November. This painted a bleak picture for a region that may already be in recession. A separate survey showed that the UK economy is in recession, with the downturn expected to worsen into 2023.
A gauge measuring Euro-area activity in manufacturing and services unexpectedly rose in November. It signalled that businesses see tentative signs that the region's economic slump may be easing as record inflation cools and expectations for future production improve.