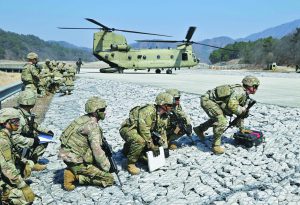 BLOOMBERG
South Korea plans to hold its "largest-ever" live-fire drills with the US in a move certain to anger North Korea, which has ramped up its provocations to new levels in response to recent military exercises.
The joint drills, which will involve mobilising high-tech military equipment, are planned for June as part of a program to mark the 70th anniversary of the alliance between South Korea and the US, South Korea's defense ministry said.
"The program is designed to showcase the ability of the two nations to materialise peace through strength via action, amid stern security situations arising from North Korea's nuclear and missile threats," the statement said.
South Korea and the US  are winding down one of their largest joint training drills in years. North Korea has responded with threats to turn the Pacific Ocean into a firing range and shot off weapons that included a missile designed to strike the US with a nuclear bomb, new missiles to hit US military bases in South Korea and a test of a mock nuclear warhead affixed to a missile.
The joint drills had been scaled down or halted under former President Donald Trump, who was hoping the move would facilitate his nuclear negotiations with North Korean leader Kim Jong-un. Those talks led to no concrete steps to wind down Kim's nuclear arsenal, which only grew larger as the talks sputtered.
The live-fire drills are also expected to draw attention from neighbouring countries, including China. The country's Foreign Ministry has said Beijing has been watching the situation on the Korean Peninsula with concern — and blamed the US for stoking tensions.