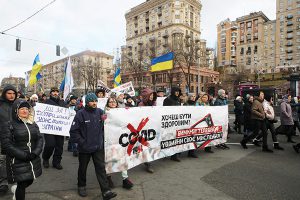 Bloomberg
Group of Seven (G-7) governments are converging around a warning to Russia that President Vladimir Putin will face severe costs if he sends troops into Ukraine, a senior US official said.
Discussions at a weekend meeting of G-7 foreign ministers in Liverpool, England, have been in line with President Joe Biden's public stance towards the threat of a Russian invasion. While the administration hasn't publicly laid out the potential costs to Russia, they would be implemented very quickly if necessary, according to the State Department official, who discussed the closed-door talks on condition of anonymity.
Russia's deployment of troops and military equipment on Ukraine's border have pushed revived fears of war to the top of the G-7's agenda. US intelligence has suggested the Kremlin has prepared a plan for an offensive against Ukraine as soon as early 2022 with as many as 175,000 personnel.
The US official expressed confidence that a broad group of countries, including other G-7 nations, would join in imposing costs if Russia attacks Ukraine. Russia has denied it plans to invade. US Secretary of State Antony Blinken and Italian Foreign Minister Luigi Di Maio, who met on the margins of the G-7 conference, renewed their support for Ukraine's sovereignty and called on Russia to "reduce tensions and return to
diplomacy," State Department spokesman Ned Price said.
G-7 members agree that changing European borders by force would have "enormous political and economic consequences," German Foreign Minister Annalena Baerbock said in comments broadcast on ARD television.
China Challenge
Ministers also discussed China's challenge to western democracies, including what the official described as predatory trade practices toward Europe. To the extent that China has antagonised European countries, it's a result of its own behaviour, the official said.
The G-7 talks are being hosted by the UK, whose Foreign Secretary Liz Truss has billed the meetings as a show of strength from democracies against "aggressors who seek to undermine liberty."
Iran was a topic as the Biden administration suggests that time for the US to return to the Iranian nuclear deal with world powers is running short. A State Department spokesperson said US Secretary of State Antony Blinken held productive meetings with counterparts from Germany, France, and the UK to discuss a way forward on the Iran nuclear deal.
Still, Baerbock told reporters at the G-7 that there was "no progress" on nuclear talks with Iran and stressed that time was running out, Reuters reported.
President Biden warns Russia of harsh economic penalty if Ukraine attacked
Bloomberg
President Joe Biden warned Russia of crippling economic penalties if it attacks Ukraine and said more US and Nato troops would be sent to defend allies.
If Russian President Vladimir Putin "moves on Ukraine, the economic consequences for his economy are going to be devastating," Biden said in response to a reporter's question at a news conference in Delaware.
The president said troops would need to be sent to defend eastern-flank Nato allies "where we have a sacred obligation to defend them against any attack by Russia."
Biden's comments underscore those he made following a phone call with Putin in which he affirmed a commitment to Ukraine's sovereignty and territorial integrity, along with warnings that Russian aggression would be met
with unprecedented economic penalties.
The US has shared intelligence with European allies showing Russia may be amassing as many as 175,000 troops near Ukraine in preparation for an attack.
In a subsequent call with eastern European Nato allies, Biden proposed placing "additional capabilities" in some of the countries.
Biden warned that if Russia attacks, "The rest of the world's view of Russia would change markedly. It'll pay a terrible price." The Kremlin has denied any plans to invade.