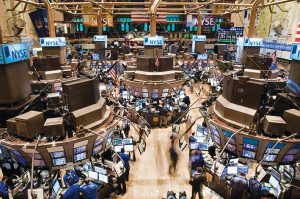 BLOOMBERG
US equity futures edged higher after a key measure of US inflation stepped down in February by more than expected, and consumer spending stabilised, suggesting the Federal Reserve may be close to the end of its rate-hiking campaign. The dollar pared an advance.
Excluding food and energy, the Fed's preferred inflation gauge — the personal consumption expenditures price index — rose 0.3% in February, slightly below the median estimate of 0.4% in a Bloomberg survey of economists. The overall PCE climbed by the same amount, Commerce Department data showed.
Contracts on the S&P 500 rose 0.2%, while those on the tech-heavy Nasdaq 100 were little changed, with the underlying index set for its strongest March since 2010.
If equities "end the week in the green, that's a big deal considering how almost disastrous the rest of the month was," said Craig Erlam, a senior market analyst at Oanda. "Confidence is easily shattered and difficult to restore and a positive end to the week would send a strong signal that investors are feeling reassured by the lack of turmoil recently."
Treasury yields drifted following Friday's US data at the end of a quarter of wild swings. Investors have struggled to adjust for banking collapses and the shifting outlook for interest rates amid high inflation and threats to economic growth. The two-year yield was around 4.11% while the 10-year maturity was about 3.53%.
Traders remained on guard for any choppiness amid quarter-end rebalancing from pension funds and options hedging activity. And they continue to debate the extent to which policy makers may cut interest rates this year.
Several strategists have said markets are wrong to expect easing by the Fed this year as the labour market remains robust, though US unemployment claims ticked up for the first time in three weeks.