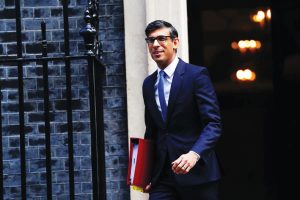 BLOOMBERG
UK Prime Minister Rishi Sunak emerged unscathed from a day of Parliamentary drama after convincingly winning a key Brexit vote, while former Premier Boris Johnson cut a defensive figure as he denied lying to lawmakers during the so-called Partygate scandal.
Sunak won the vote on a crucial element of the new deal he struck last month with the European Union (EU) by an overwhelming margin of 515 votes to 29, despite a rebellion by 22 Tories, including his predecessors Johnson and Liz Truss.
Meanwhile Johnson faced a grilling lasting over three hours by the House of Commons Privileges Committee on whether he "intentionally or recklessly" misled Parliament over Partygate, a series of rule-breaking gatherings in Downing Street during the pandemic.
Under intense questioning from MPs, Johnson acknowledged misleading parliament when he said all rules had been followed in Number 10, 2022, but denied doing so deliberately. He swore "hand on heart" he had not lied to the House of Commons.
Johnson also repeatedly insisted the gatherings were "work events," adding: "People who say we were partying in lockdown simply do not know what they are talking about."
Sunak's parliamentary victory and Johnson's long, and at times heated, hearing — broadcast live on TV — will have bolstered the prime minister and his position at the head of the governing Conservative Party after months of speculation in Westminster about Johnson's possible return to power.
"People who say that we were partying in lockdown simply do not know what they were talking about"
Boris Johnson tells Labour's Yvonne Fovargue he gathered with staff at Downing Street to "thank" and "motivate them"
Sunak is looking to win the Tories a historic fifth term in office in a general election expected next year, but his party has trailed the opposition Labour Party by a double-digit polling margin for months.
The premier was buoyed by the result of the vote on the Stormont Brake, which seeks to give Northern Ireland's politicians a veto over the application of new EU rules in that region and forms a key part of the deal he brokered last month with the bloc.
Robert Hayward, a Conservative peer and elections analyst told Bloomberg: "The Northern Ireland vote has markedly strengthened Rishi's position and in the long run will be more politically significant than the drama of the privileges committee."
Johnson's chances of a comeback had "further diminished" due to Sunak's progress and the smaller-than-expected Tory rebellion, Hayward said.
Truss's and Johnson's declarations that they would oppose the government, along with the stance of the Tory Brexiteer caucus known as the European Research group had raised the prospect of a sizable Tory rebellion. In the event, it was smaller than anticipated, numbering just 22, although the ERG claimed there was in fact a wider Tory rebellion by pointing to the number of abstentions.