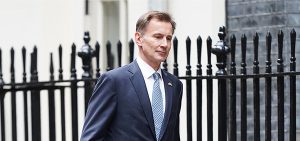 Bloomberg
The UK government will bring forward a consultation on the case for a central bank digital currency "in the coming weeks," Chancellor of the Exchequer Jeremy Hunt said.
The Bank of England will also release a paper setting out technology considerations informing the potential build of a digital pound, Hunt said in a written statement to Parliament. Hunt announced the plan as part of a wider set of reforms to spur the UK's financial services industry.
BOE officials led by Deputy Governor Jon Cunliffe have become increasingly vocal about the need for so-called central bank digital currencies, or CBDC, which would give consumers and businesses a form of money that's as safe as
cash but usable in online transactions.
They note a sharp drop in the use of cash is leaving money increasingly controlled by private companies that don't have the explicit government guarantee carried by banknotes and coins.
However, a UK parliamentary panel said earlier this year that officials have given no convincing reason it is needed. The House of Lords Economic Affairs Committee.