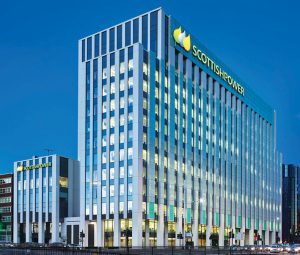 BLOOMBERG
Iberdrola SA's ScottishPower unit signed a £1.5 billion ($1.9 billion) deal with Siemens Gamesa to supply wind turbines for an offshore project in a boost for the UK's stalling renewable-power sector.
The deal comes as the UK wind-power industry grapples with cost inflation, rising interest rates and more generous government backing in the US. Developers have warned that cost pressures will make it harder to proceed with green-energy investments.
Under the deal, ScottishPower will get 95 turbines, as well as service and maintenance on those machines, from Siemens Energy AG's wind unit for the East Anglia Three offshore wind farm. The project, off the east coast of England, will be big enough to power 1.3 million UK homes.
"The scale and ambition of this investment will support UK's commitment to net zero and energy security," said Ignacio Galan, Iberdrola's executive chairman.
Developers, including ScottishPower, agreed last year to sell electricity from a wave of new offshore wind projects at record-low prices under government-backed contracts. But rising costs and the UK's windfall tax on renewable power producers put those investments at risk of becoming nonviable.
The investment from one of the UK's biggest renewable power developers also comes at a fortuitous time for Prime Minister Rishi Sunak, whose government plans to promote its energy agenda. Offshore wind is the backbone of Britain's plans to reach net-zero emissions by 2050 and cut dependence on imported fossil fuels.
Still, the future of renewable development may be shifting from the kind of government-backed contracts that Britain pioneered to help it build Europe's biggest fleet of wind farms at sea.