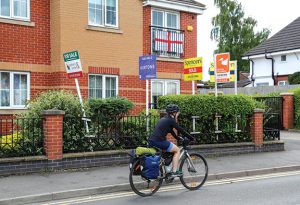 Bloomberg
UK house prices rebounded in August, led by the strongest growth in London in six years, one of the nation's biggest mortgage lenders said.
Halifax said its measure of property prices rise 0.4% last month after a 0.1% dip the month before, bringing the average cost of a home to a new record of £294,260.
The increase defied predictions that a cost-of-living crisis and rising mortgage costs would puncture the strength of the property market, which kept growing through the
pandemic and last recession.
"While house prices have so far proved to be resilient in the face of growing economic uncertainty, industry surveys point towards cooling expectations across the majority of UK regions, as buyer demand eases, and other forward-looking indicators also imply a likely slowdown in market activity," Kim Kinnaird, director of Halifax Mortgages, said.
Mortgage rates are now at their highest since 2016 after six interest-rate increases from the Bank of England since December, with another half-point rise expected next week.
The annual rate of house price growth was 11.5%, little changed from the previous month's 11.8%. London and Wales were the strongest regions for sales, with prices in the capital jumping 8.8% from a year ago, the most in six years. Wales saw the fastest growth since 2005, up 16.1%.
The figures confirm a reading from the UK's other main mortgage lender, which also registered growth in the market in August, typically a month where prices soften.
Nationwide Building Society said the average cost of a home rose 0.8% in August to £273,751, the 13th consecutive monthly increase.
"The Bank of England is widely expected to continue raising interest rates, which will also exert a cooling impact on the market if this feeds through to mortgage rates, which have already increased noticeably in recent months," said Nationwide Chief Economist Robert Gardner.