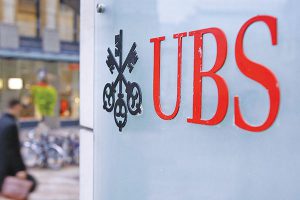 Bloomberg
UBS Group AG's investment bank underperformed US peers in the fourth quarter, as equities revenue slumped and the Swiss firm failed to match gains in fixed-income trading.
Revenue at the equities division — about twice the size of the debt and forex business — fell about 20% to $883 million, compared with declines of about half that on Wall Street. The forex, rates and credit business saw revenue increase of about 13%, compared with 28% in the US.
UBS's results give the first glimpse into how Europe's investment banks performed during what Chief Executive Officer Ralph Hamers said was a year marked by a challenging macroeconomic environment, including persistent inflation and rapid central bank tightening. While that benefited some trading operations, it's punished dealmaking, where UBS saw steep declines in equity capital markets.
UBS declined as much as 3% in Zurich and was 2.5% lower as of 9:39 am local time. Pre-tax profit at the investment bank was about 84% lower than a year earlier.
Global banking revenue dropped 52% to $331 million, in line with the overall global fee pool. The business of advising companies on deals, which dried up amid market volatility, fell 12%. Capital markets revenue slumped 68%, primarily driven by a 73% decrease in ECM revenues as IPOs head for their longest drought since the financial crisis.
The trading business took a hit mainly due to lower volumes in Asia Pacific and Europe, Middle East and Africa for the execution services business. The bank also cited lower client activity in equity derivatives, only partly offset by increases in foreign exchange, rates and credit.
UBS also followed in Wall Street banks' footsteps in wrestling to keep a lid on costs, even as the industry-wide slowdown and looming threat of a recession threaten revenue again this year. The cost to income ratio increased by about 24 percentage points at the investment bank.
In the US, Wall Street banks are also struggling to contain costs even after drastically slimming down their workforce and cutting bonuses. Wall Street's six biggest banks are expected to spend a combined $183 billion on compensation and personnel expenses this year, driving up overall costs to a record $320 billion.