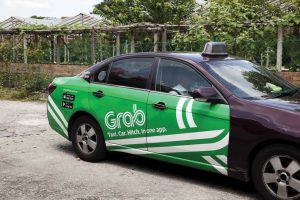 BLOOMBERG
In the ballroom of the five-star Shangri-La Singapore hotel, Anthony Tan celebrated a triumph for the country's up-and-coming tech scene. "Today we shine a spotlight on Southeast Asia!" he told the adoring crowd. His company, Grab, the region's answer to Uber, was about to make its stock market debut.
Tan had launched Grab Holdings Ltd in 2012, just as ride-hailing companies were taking off. Masayoshi Son, the billionaire founder of Japan's SoftBank Group Corp, one of Uber's venture capital backers, was also behind Grab. Other investors included BlackRock, Fidelity, Morgan Stanley and Temasek, the Singapore state investment firm.
Not since the first internet boom of the 1990s had there been such hunger for unprofitable startups. Before it started publicly trading, Grab was valued at $40 billion, almost as much as American Airlines, Delta Air Lines and United Airlines combined. Tan, only 39 at the time, was on track to become a billionaire.
Even the date of Grab's listing seemed auspicious. It read the same backward and forward: 12 02 2021. An eight-digit palindrome date will happen only 12 times this century. At 9:30 am New York time, Tan and his co-founder, Tan Hooi Ling, rang the Nasdaq opening bell remotely from the Shangri-La. A blizzard of confetti showered the room. The Queen song We Are the Champions blasted out. But almost before the confetti hit the floor, Tan's luck turned. The stock plunged 21% by the close of the trading day. Then it fell more. Even after a recent bounce, Grab is still down almost 70%.
The market's cold appraisal raised questions about Grab's future and Son's investing acumen. It also hastened the demise of Wall Street's latest mania. Grab had raised money in a complicated maneuver involving a corporate structure called a special purpose acquisition company, or SPAC. It was, and remains, the biggest SPAC deal in history.
Grab's stock slump represented a blow to its home base: Singapore. Since its independence in 1965, the city-state of 5.9 million has prospered because it welcomes and supports industry and trade, ultimately becoming a hub for commodities and finance. Why not tech, too?
In 2011 the entrepreneurial arm of Singapore's national university, along with a state-linked telecommunications company's venture capital firm and a government agency for media development, started a tech incubator. Called Block71, it's based in a dilapidated industrial building that had been slated for demolition. More than 1,100 companies have been nurtured through the centre, which has outposts throughout Asia and in the US.
The area surrounding Block71 has attracted companies such as Canon and Fujitsu, as well as Grab, which has a nine-story headquarters there. Two other Singapore-based companies are neighbours: Razer, which makes computer — gaming laptops, mice and headsets, and Sea, which developed the hit battle royal game Free Fire and whose Shopee e-commerce site competes against Amazon.com. Sea was once the world's hottest stock, surging more than 24-fold from its New York listing in 2017 through its peak in October 2021, reaching a market value of more than $200 billion.
But all three of Singapore's biggest tech hopes have stumbled. Sea's shares have fallen almost 90%; it laid off thousands to cut costs. Razer, which struggled as a public company, went private.
Devadas Krishnadas, — director of local consultant Future-Moves Group, says startups need to do more than burn investor capital and tout their growth potential. "Singapore's aspirations for tech-powered growth have been predicated more on promise than performance," he says.
The three Singapore tech companies are still very much in operation, and their stories remain to be told. Tan and other Grab executives have voiced confidence in the company's future. "The feedback from our investors has been positive on the progress we are making towards profitability and balancing sustainable growth," the company said.
Tan grew up in Malaysia and started his business in a storage room 11 years ago. In the country's capital, Kuala Lumpur, his company, then called MyTeksi, let customers summon a taxi with a smartphone. Tan comes from a family of entrepreneurs. His grandfather made a fortune in the auto industry, co-founding Tan Chong Motor Holdings Bhd in 1957 to assemble and sell Nissan cars in Malaysia. His father is president of the publicly traded company. Like many elite Asians, Tan pursued his higher education in the US, studying economics and public policy at the University of Chicago before getting his MBA from Harvard University.
Two years after starting his company, Tan met in Tokyo with Son, the SoftBank founder and chief executive officer. Son had earned renown for his wildly successful bet on Alibaba Group Holding, China's Amazon. SoftBank committed $250 million to Tan's business.
In 2014 the company moved to Singapore and later changed its name to Grab as it prepared to accelerate its expansion across the region. (In 2020 the company opened a second headquarters, in Jakarta.)
On March 26, 2018, Grab bought Uber Technologies Inc's Southeast Asian business in return for a 27.5% stake in Grab. It was a major victory for Tan as Uber withdrew from the region. Grab integrated Uber Eats into an existing meal — delivery business and branded it as GrabFood later that year. By 2020 investors saw Grab as a promising candidate to go public. Tan eventually settled on an exit strategy: the SPAC, also known as a blank-check company.
Grab had raised $12 billion in venture financing before the SPAC deal, according to data company Crunchbase. On a micro level, the math was grim.