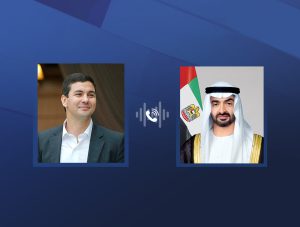 ABU DHABI/ WAM
President His Highness Sheikh Mohamed bin Zayed Al Nahyan today received a phone call from Santiago Peña, President of the Republic of Paraguay. During the call, the two leaders discussed relations between the two countries and opportunities for further cooperation, especially in the fields of investment, renewable energy, food security, technology, climate action and the economy.
The two sides also exchanged views on a number of regional and international issues of mutual interest, emphasising their shared belief in the importance of cooperation and understanding to foster global stability and development.
The conversation covered the topic of climate action and the upcoming COP28 climate conference to be held in the UAE later this year. His Highness Sheikh Mohamed stated that the UAE is looking forward to Paraguay's active participation at the conference, and both leaders agreed on the urgent need for international collaboration to tackle the challenges posed by climate change, for the benefit of all nations.
His Highness and President Peña expressed their shared commitment to continue building on the strong bilateral relations between the UAE and Paraguay to advance the sustainable development ambitions of both countries and their people. His Highness further emphasised the UAE's keenness to expand economic partnerships and strengthen relations with all nations that share its approach of cooperation and collaboration to promote global stability, prosperity and progress.