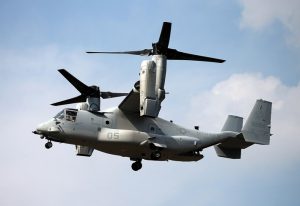 BLOOMBERG
Three US Marines died and five are in critical condition following a military aircraft crash off the coast of Darwin in Australia's Northern Territory.
The V-22 Osprey went down while performing drills with military personnel from other nations on Melville Island around 60 kilometers (37 miles) from Darwin on Sunday, ABC News reported.
"There were a total of 23 personnel on board," a US Marines official said in a statement to Agence France Presse.
"Three have been confirmed deceased while five others were transported to Royal Darwin Hospital in a serious condition."
A US Defense Department spokesperson said: "We are aware of the public reporting on this, but we do not have anything we can provide at this time."
An Australian Defence spokesperson confirmed an aircraft incident occurred mid-morning during Exercise Predator's Run 2023, without providing details. The drills also involved military personnel from the US, Australia, Indonesia, the Philippines and Timor-Leste, according to a report from Sky News Australia.
"Initial reports suggest the incident involves United States defence personnel and that Australian Defence Force members were not involved," the spokesperson said in an email.
The crash marks the second in Australia during training drills in less than two months.