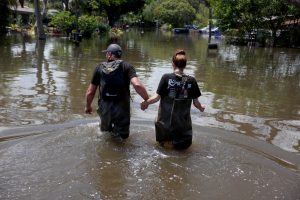 BLOOMBERG
Earth broke grim new records for melting glaciers, rising sea levels and ocean heat last year, according to a new report
from the World Meteorological Organization (WMO).
The WMO's annual State of the Global Climate report, which tracks climate indicators and impacts, cited a record high for ocean heat content in 2022. Some 58% of the ocean surface experienced at least one marine heat wave last year, the WMO said. Average global sea level also reached a record high in 2022; the WMO noted that the rate of average sea-level rise globally doubled between the decade spanning 1993 to 2002 and the decade ended in 2022.
Glaciers also saw above-average losses in mass last year, a finding backed up by a separate report from the European Space Agency (ESA). The ESA found that ice loss from Greenland and Antarctica has reached a new record, and now accounts for a quarter of sea-level rise.
The oceans act as a heat trap for the planet, which can somewhat ease global temperature increases but has myriad knock-on effects, including threatening marine ecosystems. The costs of drought, floods and heat waves are likewise a growing burden on the world's population.
"While greenhouse gas emissions continue to rise and the climate continues to change, populations worldwide continue to be gravely impacted by extreme weather and climate events," WMO Secretary-General Petteri Taalas said in a statement. "For example, in 2022, continuous drought in East Africa, record-breaking rainfall in Pakistan and record-breaking heatwaves in China and Europe affected tens of millions, drove food insecurity, boosted mass migration and cost billions of dollars in loss and damage."
The WMO also highlighted some of the impacts climate change is having on seasonal events in nature. For example, the full flowering date of cherry blossoms in Japan in 2021 was March 26, the earliest recorded in over 1,200 years.
The WMO's report follows an assessment on the state of climate change in Europe by the European Union's Copernicus Climate Change Service. As feedback loops from a drying Earth likely lead to high temperatures again this year, scientists and policy makers are preparing to adapt to life on a hotter planet.