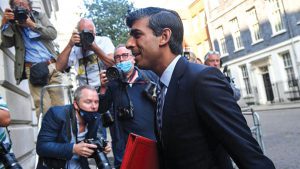 Bloomberg
Rishi Sunak announced a billion pounds ($1.3 billion) of support for UK hospitality businesses struggling with slumping demand triggered by a record wave of Covid-19 infections, as he declined to rule out further curbs to tackle the
fast-spreading omicron variant.
Restaurants and other eligible hospitality and leisure businesses will be able to claim cash grants worth up to 6,000 pounds each, the UK Chancellor of the Exchequer said in a pooled broadcast interview. He also unveiled extra cash for cultural institutions and to compensate companies for sick pay.
The move aims to end a growing clamour from firms for more support, amid what the Confederation of British Industries has called a "lockdown by stealth" as Britons steered clear of social gatherings to avoid the virus. Until now, the Treasury had pointed to measures already in place including grants, lower sales tax and business rates relief, but companies had called for more.
Sunak did, however, hint that the Treasury is prepared to step in with more assistance if tighter curbs are introduced, saying he will "always respond proportionately and appropriately to the situation that we face."
Sunak said the grants are comparable in size to those in place earlier this year when businesses were required to shut. A further 30 million pounds will go into a pot to help cultural institutions such as museums and theaters.
The opposition Labour Party criticised Sunak for his "radio silence" on crisis, while the Night Time Industries Association urged him to "come out of hiding." The chancellor was forced to cut short a work visit to California to jet back for talks with industry groups.
The assistance falls short of demands by business groups who also wanted to see extensions to tax breaks beyond March and relaxed repayment terms on government-backed loans. Some industry chiefs had also wanted to see a return of Sunak's flagship furlough program, through which the government splurged 70 billion pounds, paying up to 80% of the wages for 11.7 million jobs through to its end in September this year.
The new economic measures come with Johnson's cabinet in disagreement over when and whether to bring in new curbs to stem the omicron surge. Doing so would be politically risky for the prime minister, who is also boxed in by opposition in his Conservative Party, with ministers — including Sunak — demanding further data on the severity of omicron.
Johnson has held off on bringing in new restrictions, saying that while his ministers didn't exclude doing so if needed, for now they needed more information, even as daily cases soar above 90,000.
Earlier, Cabinet minister Steve Barclay suggested no steps will be taken before Christmas, telling LBC Radio: "We're saying to people they should continue with Christmas, but in a cautious way." He later told the BBC ministers must be "clear-eyed" about the economic consequences of any curbs.
SAGE said bringing back some of the restrictions used earlier in the year — including limits on household mixing and the closing of hospitality venues — could "substantially reduce" the peak in cases.
One option they suggested was going back to so-called Step 2 restrictions in Johnson's roadmap for emerging from the last lockdown. That included restaurants only being able to serve customers outdoors, a ban on indoor mixing between households and a maximum of six people or two households being allowed to interact outdoors.
Johnson has so far resisted imposing some of the measures recommended by his scientists, and he's promised Parliament would get a chance to vote on new curbs if he did bring them in. Recalling MPs would need at least a day's warning, and UK papers have reported that may come after Christmas, with new rules taking effect before January.