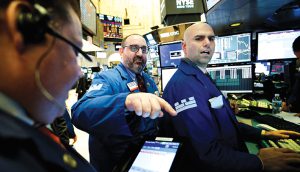 BLOOMBERG
Stocks fell as traders took risk off the table ahead of a raft of policy decisions this week that will reveal how major central banks view progress in the fight against inflation. Societe Generale SA slumped as much as 8.4% and was among the biggest drags on Europe's Stoxx 600 Index after the French lender's strategic plan included cuts to revenue and profitability targets. US equity futures signalled a slight rebound from the declines on Wall Street. Apple Inc gained, with analysts positive about pre-orders for the latest iPhone.
A powerful rally in oil prices has pushed benchmark Brent towards $95 a barrel, highlighting inflationary pressures just as policymakers around the world prepare for interest-rate meetings. The Federal Reserve's announcement on Wednesday will be followed by those from the Bank of England on Thursday and the Bank of Japan a day later. "This week will be bumpy," said Francois Rimeu, a fund manager at La Francaise Asset Management in Paris. "Pretty tough messages are expected from central bankers."
US Treasury yields ticked higher, with the policy-sensitive two-year rate above 5%.  Monday's subdued mood in stock markets matched the tone of a note from Morgan Stanley strategists, who said investors have turned more cautious. The team led by Michael Wilson said there's a growing debate among clients about whether a recession has been avoided or just delayed.
"The majority of investors we've spoken with are in the 'pushed out' camp and are of the view that 2024 is now looking like a more challenging year for risk assets relative to 2023," Wilson wrote in a note. Hedge funds boosted their bullish wagers on Brent and US crude to a 15-month high. Brent has gained 11% in three weeks. Among currencies, the dollar weakened against most of its  G-10 peers. A resilient US economy will prompt the Fed to pencil in one more interest-rate hike  this year and stay at the peak level next year for longer than previously expected, according to economists surveyed by Bloomberg News.
"A number of Fed speakers have taken a slightly more cautious tone recently, mentioning that risks have become more two-sided and talking of the ability to 'proceed carefully,'" said Credit Agricole strategists led by Jean-François Paren. "That said, it is far too early to declare victory, and the Fed will want to keep the possibility of further tightening on the table."
In Asia, a gauge of the region's shares fell, dragged down by tech names. Hong Kong's Hang Seng Index slipped 1.4%, while China's CSI 300 Index erased losses as traders drew support from data that pointed to signs of stabilisation.