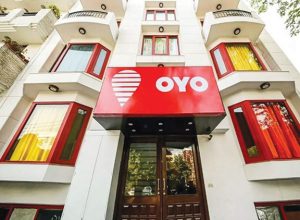 Bloomberg
Oyo Hotels, the once high-flying Indian startup, is reviving plans for a stock-market debut after cost cuts and a recovery in travel helped it reduce losses.
The hotel-booking company filed fresh financial documents and is now targeting an initial public offering in early 2023 provided that India's stock market continues to hold up and economic conditions improve, according to people familiar with the matter. Oyo, formally known as Oravel Stays Ltd, is internally working toward a January IPO as executives are encouraged by a pick-up in demand, they said, asking not to be named discussing confidential plans.
Oyo had filed preliminary IPO documents in 2021, only to shelve the listing plan earlier this year after the prolonged pandemic hurt its growth and forced the company to cut thousands of jobs. It disclosed its latest financials in an IPO filing addendum on Monday, with the numbers showing narrower losses and a rebound in sales for the year through March 2022 and the following three months.
The startup is now focusing
on four main regions: India, Malaysia, Indonesia and Europe, where it manages vacation homes. It has cut down operations in markets it previously considered crucial, such as the US and China, where its employees now measure in the single digits, one of the people said.
Oyo, valued at $9 billion according to researcher CB Insights, may have trouble attaining that level given rapidly eroding investor sentiment. But the company appeared determined to rein in costs and improve the bottom line, which would appeal to markets, said Manav Thadani, co-founder and chairman of hospitality industry consultancy Hotelivate.
"Nobody expected the turnaround after a series of Covid-related challenges to be so quick and so robust," Thadani said.
"It's good to see they've given up expansion in China and the US and are now targeting niche markets. They are focusing on performance."
Oyo and founder Ritesh Agarwal are trying to pull off a successful IPO after a series of setbacks in their efforts to change the hotel and lodging industry. SoftBank Group Corp founder Masayoshi Son was an early and enthusiastic backer, and the Japanese conglomerate holds about 47% in the Gurgaon-based startup. The 28-year-old Agarwal owns about one third.
The revived listing plan also underscores how India's stock market is bucking the trend of globally declining tech stocks.
Oyo was started in 2013 by Agarwal, then 19, who dropped out of college to travel around the country.