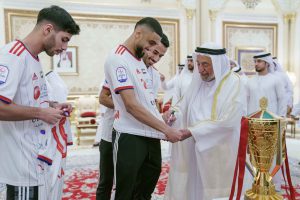 SHARJAH / WAM
His Highness Dr Sheikh Sultan bin Muhammad Al Qasimi, Supreme Council Member and Ruler of Sharjah, received the
team of the Sharjah Football Club, which was crowned with the UAE President's Cup, on Sunday, at Al Badi' Palace, and directed a reward of AED10 million for the team.
This came in the presence of HH Sheikh Sultan bin Mohammed bin Sultan Al Qasimi, Crown Prince and Deputy Ruler of Sharjah, and HH Sheikh Sultan bin Ahmed bin Sultan Al Qasimi, Deputy Ruler of Sharjah.
The AED10 million reward comes in appreciation of winning the UAE President's Cup for the tenth time in the club's history, and for the second time in a row.
The Sharjah Ruler extended thanks and appreciation to His Highness Sheikh Mansour bin Zayed Al Nahyan, Vice President, Deputy Prime Minister and Minister of the Presidential Court, for the generous patronage of the match, and for crowning the players.
He also gave thanks and appreciation to Sheikh Rashid bin Humaid Al Nuaimi, President of the UAE Football Association (UAEFA), for the good organisation and management of the match.
Dr Sheikh Sultan congratulated the Sharjah team on winning the UAE President's Cup, including management, players and coaches, praising the great level presented by the players during the match, along with the Al Ain team, which won the admiration of everyone.
For their part, the members of the administrative and technical staff and the players of Sharjah Club expressed their thanks and appreciation to the Ruler of Sharjah for this honour, and for the great and continuous support that contributed to the club's victory.
The Sharjah Football Club team achieved the title of UAE President's Cup after winning a penalty shootout against Al Ain Club in the final match that brought them together at the Mohamed bin Zayed Stadium in Abu Dhabi.
The event witnessed also the attendance of Sheikh Mohammed bin Saud Al Qasimi, Chairman of the Sharjah Finance Department; Sheikh Khaled bin Abdullah bin Sultan Al Qasimi, Chairman of Sharjah Seaports, Customs and Free Zones Authority; Sheikh Mohammed bin Humaid Al Qasimi, Chairman of the Department of Statistics and Community Development; Sheikh Majid bin Sultan Al Qasimi, Chairman of Districts and Villages Affairs Department; Sheikh Saqr bin Mohammad Al Qasimi, Chairman of the Board of Directors of the Sharjah Charity International; Sheikh Saud
bin Sultan Al Qasimi, Director of the Sharjah Digital Office, and a number of heads of government entities and sports leaders in the emirate of Sharjah.