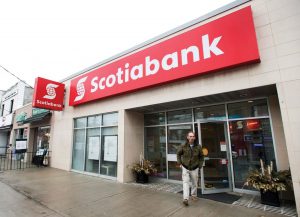 BLOOMBERG
Bank of Nova Scotia (Scotiabank) missed analysts' estimates as the lender failed to capitalise on rising interest rates and took a bigger provision for potentially souring loans than expected.
Net interest margin — the difference between what the bank earns from loans and what it pays depositors — was 2.13% in the fiscal second quarter, compared with 2.11% in the previous three months and 2.23% a year earlier. Excluding some items, profit totalled C$1.70 a share, less than the C$1.76 average estimate of 11 analysts in a Bloomberg survey.
Higher set-asides for credit losses hurt net income in both the Canadian banking and the global banking and markets segments. The Canadian banking segment also dealt with higher non-interest expenses, with revenue up from a year earlier countering the increase.
Scotiabank's international division — centered on Chile, Colombia, Mexico and Peru — sets the lender apart from Canada's North America-focused banks, with the unit weighing on the lender's shares in recent years. Scott Thomson, who took over as Scotiabank's chief executive officer earlier this year, said in February that the division's "returns are not commensurate with our expectations in certain countries" and that the firm is "in the process of assessing our international business mix."
The unit's net interest margin rose to 4.12% in the three months through April from 4% in the fiscal first quarter. The Federal Reserve said that it ended an enforcement action against the Canadian lender related to its anti-money-laundering controls.