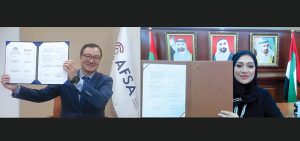 ABU DHABI / WAM
The Securities and Commodities Authority (SCA) entered into a memorandum of understanding (MoU) with the Astana Financial Services Authority (AFSA) in Kazakhstan to establish a framework for mutual cooperation in supervision, surveillance, and information exchange, thereby enhancing market transparency and increasing the efficiency of the securities sector in both countries.
The MoU was signed between Dr Maryam Buti Al Suwaidi, CEO of the SCA, and Nurkhat Kushimov, CEO of the AFSA, in the presence of officials from the two sides. "The MoU intends to unify the efforts aimed at enhancing transparency and bolstering the integrity of financial market transactions by cooperating in supervision and surveillance and ensuring the enforcement of laws, rules, and regulations applicable to listed companies to promote the efficiency of the securities sector and unlock its full potential in both countries," Dr Al Suwaidi said following the signing that took place in a video conference.
"This agreement establishes a unique partnership with the AFSA and reflects a new avenue of bilateral cooperation that brings about the significant benefit of protecting investor rights. It provides for the exchange of information and coordination on matters related to investor complaints about fraudulent practices engaged in by unlicensed, fictitious entities. It also allows for the conduction of joint inspections and investigations to ensure the integrity of transactions carried out in markets and financial services companies and limit practices that violate the laws and regulations applicable to both parties."
Under the terms of the MoU, the two sides may share information, exchange expertise, and carry out joint training about regulatory surveillance and supervision.