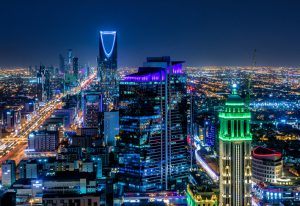 Saudi Arabia has earmarked 10 billion riyals ($2.7 billion) to provide incentives for global supply firms to invest in the kingdom, part of plans to develop its economy as a hub for industrial companies.
Crown Prince Mohammed bin Salman bin Abdul Aziz announced the plans as part of Saudi Arabia's Global Supply Chain Resilience Initiative on Sunday, that aims to attract 40 billion riyals of investments into the country. The move is intended to help the kingdom reach a target of becoming one of the 15 largest economies globally by 2030.
The initiative intends to "leverage the Kingdom's resources, infrastructure and location to bring greater resilience to economies and companies across Europe, the Americas and Asia, while further enhancing Saudi Arabia's position in the global economy," according to a statement on the state-run Saudi Press Agency.
Saudi Arabia has announced a raft of investment targets as it looks to wean the economy off a reliance on oil sales by developing new industries. It wants to position itself as a regional hub for transport and logistics, digital infrastructure, and low-carbon energy sources including solar power and hydrogen exports.
The kingdom wants the supply chain plan to attract investment in areas including manufacturing of green metals, green hydrogen production devices, and advanced recycling industries.
Meanwhile, JPMorgan said it will hire 20 more bankers in Saudi Arabia
The US-based bank is set to add another 20 people to its Saudi Arabia operation by the end of the year as it looks to capitalise on one of the world's few bright spots for equity capital markets.
The lender will have doubled the size of its Saudi operations by the end of the year, compared to 2016, Bader Alamoudi, JPMorgan's senior country officer said in an interview. The bank will be hiring across investment bankers, local custody, client services and back office staff, he said.
"We see a very strong pipeline of deals coming up across M&A and IPOs, there's still a lot of interest from local companies to list and from foreign investors looking to get exposure to the Saudi market," he said.
—Bloomberg