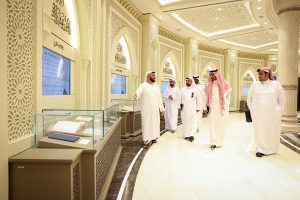 SHARJAH / WAM
A delegation from the National Museum in Saudi Arabia visited the Holy Quran Academy. They learned about the best practices in manuscript restoration, digital experiences aimed at harnessing data and statistics for the museum sector, as well as supporting services and scientific projects of the Holy Quran Academy that embody Sharjah's vision in promoting Arab culture and identity globally.
This occurred during the delegation's visit to the academy, where they were received by Sheikh Sherzad Abdulrahman Taher, Secretary General of the Holy Quran Academy (HQA), who provided a detailed explanation of the academy, its role, scientific projects, and museums, along with a detailed explanation from specialists in rare manuscript restoration on how to preserve them.
Dr Sherzad provided the visiting delegation with detailed information about the Holy Quran Academy, its scientific projects, and its international readerships, which include Quranic science students from166 countries around the world who study Quranic sciences in Arabic.
He also pointed out to the visiting delegation the features of the academy, including museums that house unique knowledge treasures accessible to visitors, enthusiasts, and researchers.
There are also virtual museum tours that enable visitors from all over the world to view this great heritage through its website, reflecting the important role it plays in promoting and consolidating Arab and Islamic values and identity.