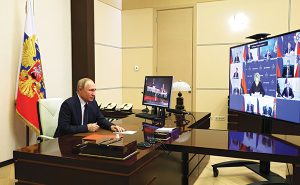 Bloomberg
Nearly a year into an invasion that was supposed to take weeks, Vladimir Putin is preparing a new offensive in Ukraine, at the same time steeling his country for a conflict with the US and its allies that he expects to last for years.
The Kremlin aims to demonstrate that its forces can regain the initiative after months of losing ground, putting pressure on Kyiv and its backers to agree to some kind of truce that leaves Russia in control of the territory it now occupies, according to officials, advisers and others familiar with the situation.
Even Putin can't deny the weaknesses of the military that he's spent decades building up after his troops lost more than half their initial gains in Ukraine, the people said, speaking on condition of anonymity to discuss matters that aren't public. The persistent setbacks have led many in the Kremlin to be more realistic about their immediate ambitions, recognizing that even holding the current front line would be an achievement.
But Putin remains convinced that Russia's larger forces and willingness to accept casualties – which already number in the tens of thousands, more than in any conflict since World War II, according to US and European estimates – will allow it to prevail despite the failings so far. The renewed offensive may start as soon as February or March, the people close to the Kremlin said. Their comments confirm warnings from Ukraine and it allies that a new Russian offensive is coming and suggest it may begin before Kyiv gets newly promised supplies of US and and European battle tanks.
Putin's determination presages another deadly escalation in his war as Kyiv prepares a new push of its own to eject his forces, dismissing any cease-fire that leaves Russia occupying its land. The Russian leader believes he has no alternative but to prevail in a conflict he sees as an existential one with the US and its allies, the people said.
A new round of mobilization is possible as soon as this spring, they said, as the economy and society are increasingly subordinated to the needs of the war.
"Putin is disappointed at how things are going but he isn't ready to abandon his goals," said Tatiana Stanovaya, founder of R.Politik, a political consultancy. "It just means that the route will be longer, more bloody and worse for everyone."
US and European intelligence officials question whether Russia has the resources for a major new offensive, even after mobilizing 300,000 additional troops last fall. Ukraine's allies, meanwhile, are stepping up weapons supplies, preparing to deliver armored vehicles and main battle tanks for the first time that could help Ukrainian troops break through Russian lines.
But Russia's brutal, grinding attacks in places like Bakhmut, an eastern city that has limited strategic value, have worn down Ukrainian forces, diverting troops and sapping Kyiv's ability to mount offensive operations elsewhere, according to US officials.
After lightning attacks by Ukrainian forces in the summer and fall breached its defensive lines, Russia has since stepped up protections, using trenches, tank traps and mines to slow any potential advance. Publicly, the Kremlin says there are no plans for more mobilization at present.