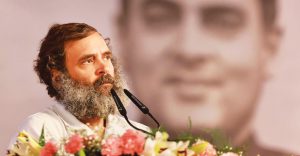 BLOOMBERG
India's parliament secretariat removed Rahul Gandhi as a lawmaker after a local court convicted him of defaming Prime Minister Narendra Modi, a huge blow to the opposition ahead of national elections next year.
The disqualification makes Gandhi, a scion of the Nehru-Gandhi political dynasty, less viable as a leader of any opposition coalition before elections that may be held around April next year.
The country's lower house of parliament issued a notification that Gandhi's disqualification was effective from March 23, the same day a local court had found him guilty of making a disparaging remark over Modi's surname. He was sentenced to two years jail but was granted bail and has 30 days to appeal to the higher courts, local media reported.
The initial complaint, which led to the case, was lodged by leaders of Modi's governing Bharatiya Janata Party (BJP).
The 52-year-old politician also faces the risk of being barred from contesting in the national polls if the higher court doesn't stay his conviction or reduce his prison time. India's laws don't allow people sentenced to jail for two years or more to take part in electoral contests for six years.
Gandhi was disqualified under the Representation of the People Act that states that legislators convicted of any offense and sentenced to not less than two years jail will lose their parliament membership.
"We will fight this battle both legally and politically," Jairam Ramesh, a Congress party leader, said in a tweet. "We will not be intimidated or silenced."
Gandhi has been positioning himself as a challenger to Modi and the BJP in recent months. He completed a four-month walk in end-January, spanning nearly the entire length of India to show to voters that he's a strong leader who can counteract BJP's Hindu majoritarian views in a secular nation.
There's also much at stake for Gandhi's Congress party, which the BJP defeated in two straight national elections. It's trying to build momentum for a parliamentary debate on Modi's alleged links to billionaire Gautam Adani, who has been battling allegations of fraud and market manipulation from a US short seller. Adani's conglomerate has denied the report.
The BJP, which controls parliament, has rejected the opposition's demand for a parliamentary panel to probe the allegations against the tycoon and his stable of companies.
While speaking in the Lower House in February, Gandhi launched a strong attack on Modi and his association with Adani by saying rules were changed to favour the businessman. Parts of his remarks have been expunged from the parliament record and the BJP has strongly rejected Gandhi's allegations.