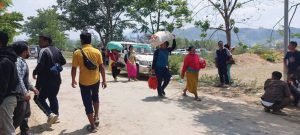 BLOOMBERG
Indian police forces killed at least 30 people from tribal groups identified as extremists, part of an ongoing security operation in a northeastern state bordering Myanmar that's seen unrest over the access to affirmative action benefits.
The government will not allow the disintegration of Manipur state by "armed terrorists," Chief Minister N Biren Singh said. Security operations were still ongoing after recent clashes which saw some feuding groups attack some homes.
While Singh didn't specify the identity of the so-called extremists that the police have been clashing with, local news outlets identified them as Kuki, a tribal group found in Myanmar, Bangladesh and India.
Violence first erupted early May between the mostly-Christian tribal groups and the majority Meitei Hindu residents over a demand that Meiteis be granted access to jobs and university places set aside for tribal communities.
Since then, there have been reports of widespread arson and clashes between the two groups. At least 37 people were killed and scores of homes, places of worship and vehicles were attacked and set on fire. Home Minister Amit Shah will visit the violence-hit state to review security arrangements.
Over the weekend, Army Chief General Manoj Pande traveled to the region where thousands of soldiers were deployed to quell the ethnic violence.