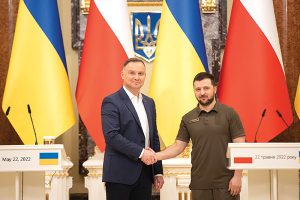 Bloomberg
Poland's president said he "will not rest until Ukraine becomes a full-fledged member" of the EU as he addressed
lawmakers in Kyiv and met with President Volodymyr Zelenskiy.
President Recep Tayyip Erdogan spoke with Nato chief Jens Stoltenberg and the leaders of Finland and Sweden,
reiterating his reservations about the Nordic nations' bids to join the military alliance. President Joe Biden signed into law a $40 billion US aid package for Ukraine. He was later among over 900 US citizens hit with personal sanctions by Moscow.
Zelenskiy indicated he'd be satisfied if Ukraine's borders can be restored to pre-February locations. A prisoner swap for the surrendered defenders of the Mariupol steel plant may be explored, a Russian lawmaker said.
President Andrzej Duda draw repeated ovations as he described unshakable unity between Poland and Ukraine in an address to the Parliament in Kyiv.
"Only Ukraine has the right to decide about its own future," Duda said, adding that there are "voices in Europe" asking Kyiv to cave in to Russian President Vladimir Putin. "If for some kind of peace of mind Ukraine is sacrificed, it will be a big blow not only for Ukraine, but also for the entire western community," he said.
Duda, the first foreign head of state to address Ukrainian lawmakers in person since Russia's invasion almost three months ago, said he was committed to ensuring that Ukraine is granted EU candidate status as quickly as possible.
Russian forces intensified efforts to encircle and capture Severodonetsk in Ukraine's Luhansk region and will likely continue to do so as efforts on other axes of advance, including Izyum, remain largely stalled, according to the Institute for the Study of War.
Troops may also be assembling in certain areas of Zaporizhia and Kherson oblasts to prepare for further offensive operations on the southern axis, the US military think tank said. The UK defense ministry said Moscow has likely deployed BMP-T Terminator tanks to the Severodonetsk area, adding that "their presence suggests that the Central Grouping of Forces is involved in this attack."
The unit suffered heavy losses near Kyiv in the first phase of Russia's invasion.
Poland remains the first destination for many of those fleeing Ukraine. Some 3.5 million people have crossed into Poland since February 24, according to border authorities. Recently the movement has been more two-sided as more Ukrainians return home.