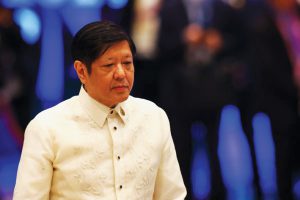 BLOOMBERG
The Philippines will cut contact with the International Criminal Court (ICC) after it denied the government's request to suspend the probe on former leader Rodrigo Duterte's deadly drug war, President Ferdinand Marcos Jr said.
"That ends our involvement with the ICC," Marcos said in a televised briefing, referring to the court. "At this point, we are disengaging from any contact or communication."
The tribunal based in The Hague earlier this year reopened its investigation on alleged crimes against humanity committed under Duterte's drug war.
Marcos also criticised the international court for "interference and attacks" on the nation's sovereignty. He won the presidency in tandem with Duterte's daughter, but the former leader didn't directly back him.
Meanwhile, Finance Secretary Benjamin Diokno warned of a "fiscal collapse" if the government does not overhaul its military pension system which he said is putting a strain on the national budget.
President Ferdinand Marcos Jr's cabinet is planning to require active and incoming soldiers to contribute to their pension instead of the state fully funding it, Diokno said in a briefing, discussing plans for pension reform.
"We have to address the issue. It's not sustainable. If this goes on, there will be a fiscal collapse," Diokno said at a televised briefing.