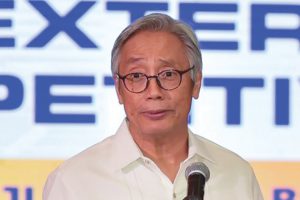 BLOOMBERG
The Bangko Sentral ng Pilipinas (BSP) has done enough to address inflation and could pause from raising interest rates at the next policy meeting in May, Finance Secretary Benjamin Diokno said.
"Contrary to some analysts' view that the BSP's Monetary Board could even push its policy interest rate higher than 6.5%, I think that the BSP is leaning towards a pause in its policy meeting in May," Diokno said in a mobile phone message to reporters. He is a member of the central bank's policymaking body.
The BSP raised the overnight reverse repurchase rate by 25 basis points to 6.25%, the highest since 2007 and putting cumulative increases within the past year at 425 basis points. Afterward, BSP Governor Felipe Medalla said the central bank might not hike at its next meeting in May if prices decline on a month-on-month basis.
Annual inflation eased to 8.6% in February from a 14-year high of 8.7% the previous month, allowing the central bank to shift to a smaller rate increase and trim its inflation forecasts for this year and next.