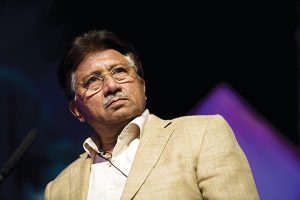 Bloomberg
Pervez Musharraf, the former four-star Pakistani army general who governed the South Asian nation for nearly a decade after coming to power in a 1999 bloodless coup, has died. He was 79.
He died after a long ailment in Dubai, said Raza Bokhari, a former spokesman and close aide.
Musharraf, who was Pakistan's fourth military leader, was a polarizing and divisive figure. He ruled through the turbulent period after September 11, 2001 and attempted to appease American demands during the war on terrorism.
"India has a strategy of strangulating Pakistan economically, isolating it internationally and weakening its army — we have to counter that," he said in a 2018 interview in his penthouse apartment in Dubai, where he lived in self-exile for most of his life after being forced to resign the presidency in 2008.
Some in Pakistan praised the former army chief and president for ushering in a level of economic stability, helped by American debt waivers and aid in return for military support. Musharraf also drew criticism for constitutional and human rights violations and was blamed for failing to tackle widespread violence in the later years of his rule.
Hot-Headed General
Born on August 11, 1943, in Delhi, Musharraf emigrated to Pakistan with his family to the port city of Karachi after the British partition of the subcontinent in 1947. From 1949 to 1956, he lived in Turkey, where his father was a diplomat.
After joining Pakistan's army at age 18, he was commissioned in the artillery regiment in 1964 and later became a commando. Decorated for actions during two wars with India, and despite his rambunctious and hot-headed style — which led to multiple disciplinary actions — he became a general in 1991.
In 1998, then-Prime Minister Nawaz Sharif surprised the top brass by elevating Musharraf to chief of army staff after forcing General Jehangir Karamat to step down over a disagreement about security policy. Sharif believed Musharraf — who wasn't from Punjab province, the traditional recruiting ground for officers — would be a pliant army chief.
It was not to be. In 1999, Pakistani troops infiltrated Kargil, an Indian-controlled district in the disputed region of Kashmir — provoking fighting and nearly a full-scale war before Sharif ordered a climbdown in the face of US pressure. Sharif maintained that the operation was ordered without his knowledge. Musharraf disputed that, and the conflict led to an irreparable strain between the pair.
Bloodless Coup
In October that same year, Sharif sacked Musharraf as he was returning from a visit to Sri Lanka. The military leadership defied Sharif's orders and led a coup that toppled his government.
Musharraf claimed Sharif didn't allow his plane to land in Pakistan. The general refused to let the pilot fly to nearby India, and the aircraft touched down in Karachi with barely seven minutes of fuel left.
Economically, the military-led government sought to reduce overseas debt. In the last Asian default before Sri Lanka's delinquency in 2022, it froze repayments, forcing a downgrade of Pakistan's credit rating to D. Musharraf also used his newfound US support to get loans and grants from Western countries and international lenders.
India Talks
He repeatedly reneged on his pledges to restore legitimate democracy. Musharraf was sworn in as the 11th president of Pakistan in November 2002, following a controversial referendum in April that year in which he got 98% of the vote. Sharif and former Prime Minister Benazir Bhutto of the Pakistan Peoples Party were barred from contesting the poll.
As head of the military, Musharraf arguably was the Pakistani leader who got closest to settling the country's long-running disputes with India. He traveled there for a series of talks with Prime Minister Atal Bihari Vajpayee in a bid to reach a reconciliation between the nuclear-armed neighbors.
According to Musharraf, Vajpayee had in principle agreed to a four-point solution to settle claims to the disputed Himalayan region of Kashmir, which was split during partition.
Musharraf later blamed the Indian cabinet for failing to ratify it after the agreement broke down hours before a planned signing ceremony.