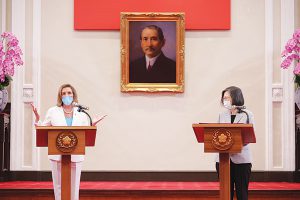 Bloomberg
House Speaker Nancy Pelosi pledged that the US wouldn't abandon Taiwan, reaffirming American support for the democratically elected government in Taipei despite threats of fresh trade curbs and military actions by Beijing.
Pelosi made her comments on Wednesday during a Presidential Office ceremony with Taiwanese leader Tsai Ing-wen. The California Democrat's arrival in Taiwan late Tuesday made her the highest-ranking US official to visit in a quarter century, and the most high-profile success in Tsai's six-year drive to attract greater foreign support and reduce reliance on China.
"We will not abandon our commitment to Taiwan and we are proud of our enduring friendship," Pelosi said. "Now more than ever American solidarity with Taiwan is crucial," she added. "That's the message we're bringing here today."
Tsai said Pelosi's visit showed Taiwan's staunch international support in the face of a years-long international pressure campaign led by Beijing, which claims the island as its territory. "Facing deliberately heightened military threats, Taiwan will not back down," Tsai said, after conferring an award on the visiting US lawmaker.
China has announced trade sanctions and its most provocative military drills in decades in the wake of Pelosi's visit, which risks sparking a crisis between the world's biggest economies. President Xi Jinping told President Joe Biden last week he would "resolutely safeguard China's national sovereignty and territorial integrity" and that "whoever plays with fire will get burned."
On Wednesday, Chinese Foreign Minister Wang Yi called Pelosi's trip a "complete farce" and warned "those who offend China will be punished." Still, China's failure to follow through on some of the more extreme measures proposed by nationalists to stop Pelosi from visiting Taiwan left some on the mainland disappointed.
Taiwanese shares closed 0.2% higher while China's benchmark CSI 300 Index ended the day 1% lower. Pelosi's US military plane left Taiwan at 6:01 p.m. local time, with her delegation scheduled to continue on to South Korea and then Japan.
The House speaker's vow to stand by Taiwan comes against long-running uncertainty over whether Washington would come to Taipei's aide to prevent an invasion by Beijing. The US has faced calls for a clearer commitment to defend Taiwan following Russia's invasion of Ukraine, which American weapons deliveries helped slow but couldn't prevent.