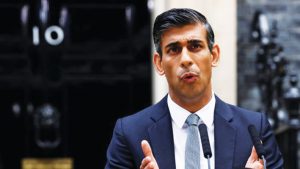 BLOOMBERG
Hard-line Brexiteers in Rishi Sunak's Conservative Party said parts of the UK prime minister's new Brexit deal are "practically useless," while reserving judgment on whether they'll rebel in a vote on Wednesday.
EU law will remain supreme in Northern Ireland, new trading arrangements won't work as billed by Sunak and a proposed veto mechanism for the application of new EU rules in the region won't work, the Tory Brexiteer faction, known as the European Research Group (ERG), said on Tuesday in its first detailed assessment of the deal.
But despite the criticisms, ERG Chairman Mark Francois stopped short of saying his members will oppose the agreement, saying "we need to allow people time to digest this" and convening a new meeting for Wednesday morning. "We as a group will discuss what attitude, if any, to take" he said.
The tenor of the ERG assessment suggests they'll join Northern Ireland's Democratic Unionist Party in opposing the government in the first House of Commons vote on the deal since it was struck in February by Sunak and European Commission President Ursula von der Leyen. While that would be a blow to Sunak, who had hoped his deal addressed the concerns of both groups, it's unlikely to cost him victory because of support from the main opposition Labour Party.
Sunak has a working majority of 66 in parliament, meaning it would take at least 33 rebels to leave him relying on opposition votes. But the ERG is not the organising force it was at the height of the Brexit wars in Parliament from 2017 to 2019, with some of its most prominent former members now occupying government positions and the others exhausted by Brexit.