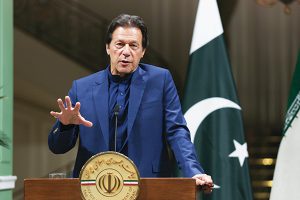 Bloomberg
Prime Minister Shehbaz Sharif named General Asim Munir as Pakistan's next army chief, a choice that could harden former premier Imran Khan's opposition to the government and stoke his high-stakes clash with the military.
Khan, who as prime minister had removed Munir from the role of intelligence chief, would see the appointment as a possible obstacle to his attempt to force early elections.
Khan had instead been seeking a snap poll that would allow the new government— presumably led by his party — to choose the army chief. The appointment is important because the institution wields outsized influence over the country's politics, having directly ruled the nuclear-armed nation for about half of its history since its creation in 1947.
Indication of Khan's thinking could come as early as Saturday, when he's due to hold a protest rally against the government. Any deepening of the political crisis risks further delaying a loan disbursal from the International Monetary Fund and spooking investors ahead of a dollar bond repayment in December.
The new chief and the core military leadership "will likely be struggling to manage Khan's populism and popularity because it could return him to power in the 2023 elections," according to Kamran Bokhari, director analytical development at the Washington-based New Lines Institution for Strategic & Policy.
Information Minister Marriyum Aurangzeb announced Munir's appointment on Twitter on Thursday. Munir will have a threee-year term replacing General Qamar Javed Bajwa, whose six-year extended term ends November 29.