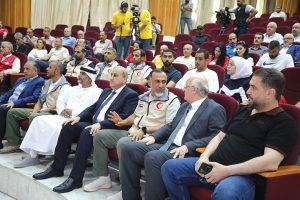 LATTAKIA / WAM
Operation "Chivalrous Knight/2", which was launched by the Joint Operations Command of the Ministry of Defence under the directives of UAE President His Highness Sheikh Mohamed bin Zayed Al Nahyan, announced a number of new humanitarian initiatives, in continuation of the UAE's efforts for Syrian people to alleviate their suffering in the aftermath of the earthquake that struck the country last February.
Mohammed Khamis Al Kaabi, Head of the Emirates Red Crescent delegation in Syria, reiterated the UAE's continuous support to Syria to assist the country with four new initiatives. "My School is My Identity" initiative aims to restore and maintain 40 schools in Latakia Governorate, while the "Education Knights" initiative aims to provide laptops and desktop computers to support digital transformation and provide training and necessary supplies for the faculties of engineering, medicine and pharmacy at Tishreen University in Syria.
During a media briefing held yesterday in Syria, Al Kaabi added that "Eid clothes" are being prepared and distributed to approximately 44,000 Syrians in the governorates of Homs, Aleppo, Hama and Lattakia, in addition to distributing 2,000 sacrificial animals as part of the Adahi project (Eid sacrifices) with a total of 100,000 beneficiaries.
For his part, Chairman of the Lattakia Governorate Council Tayseer Habib expressed his appreciation for the humanitarian initiatives undertaken by the Emirates Red Crescent (ERC) team in more than 100 days, extending his thanks to the leadership and people of the UAE and to the team of the Operation 'Chivalrous Knight / 2'.
He praised the UAE's constant efforts through several new initiatives announced by the ERC in the media briefing, including the distribution of Eid clothing, sacrificial animals, and supporting the faculties at Tishreen University. He noted that the governorate had the honour of presenting shields to the representative of the ERC delegation for their relentless efforts to support the Syrian people.
These humanitarian initiatives come within the framework of the UAE's continuous relief efforts, in cooperation with the Syrian authorities and the Syrian Arab Red Crescent, for psychological and social support to alleviate the suffering of the Syrian people.
It is worth noting that Operation "Chivalrous Knight / 2" is one of UAE's prominent humanitarian efforts under the directives of its leadership to support the people of Syria, whereby 184 aircraft carrying essential foodstuffs, medicines, and medical supplies were flown.