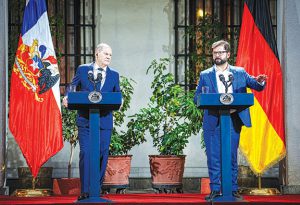 Bloomberg
Chancellor Olaf Scholz is using a trip to Latin America to help Germany secure additional supplies of the lithium that car giants like Mercedes-Benz Group AG and Volkswagen AG need for their electric-vehicle batteries.
Chile is the world's second-largest supplier of lithium after Australia and much of its output is currently gobbled up by China. Scholz, who met with Chilean President Gabriel Boric on Sunday in Santiago, wants a larger share for Europe's biggest economy, according to people familiar with the plans. The chancellor was expected to meet with Brazil's Luiz Inacio Lula da Silva on Monday.
Part of Germany's strategy to get Chile on board is to have more of the production process based locally and to help make extraction and processing less damaging to the environment, said the people, who asked not to be identified because the discussions are private.
"There are states that think that all raw materials come from China, but this is not true. Many raw materials in fact come for example from Argentina or Chile, get shipped to China, are processed there and then sold again," Scholz said in Buenos Aires on Sunday. "The question is: Can one not move the processing of these materials, which creates thousands of jobs, to those countries where these materials come from?"
Green Transition
Major developed nations like Germany are competing fiercely for increasingly scarce resources and access to metals and rare earths is crucial for the transition to cleaner and more technologically advanced economies.
In the global race for many of the commodities, China has become the dominant supplier or processor, leading to warnings about the government in Beijing wielding excessive influence.
Those warnings especially resonate in Germany, which built up a heavy reliance on imports of Russian fossil fuels in recent decades. Since Vladimir Putin's invasion of Ukraine Scholz's government has been racing to diversify suppliers of the materials it needs to keep its economy running.
In Buenos Aires, Germany and Argentina signed a memorandum of understanding on Saturday that is intended to secure Berlin's access to the country's rich Lithium resources. After a meeting with Argentinian president Alberto Fernandez, Scholz spoke out against a policy "which only serves the interests of that country that wants to process the commodities for themselves."
During his visit to the Chilean capital Santiago on Sunday, Scholz sent a similar message. Germany is ready to get into the lithium business with Latin America in an attempt to establish independence from China.
Chilean President Gabriel Boric said that he was determined to reorganize the lithium industry in his country. "We want to create a national lithium company through various treaty mechanisms," Boric said at the press conference in Santiago. "Chile has the right and the duty to participate in this industry."
Only two companies produce lithium in Chile — US-based Albemarle Corp. and local firm SQM, in which China's Tianqi Lithium Corp. has a more than 20% stake.
They mainly make lithium carbonate, more than 90% of which goes to Asia.
SQM and Albemarle both pump up vast amounts of brine from beneath a salt flat in Chile's northern desert, storing it in giant evaporation ponds for a year or more. The resulting concentrate is turned into lithium carbonate and hydroxide at nearby plants and sent off to Chinese and Korean battery makers.