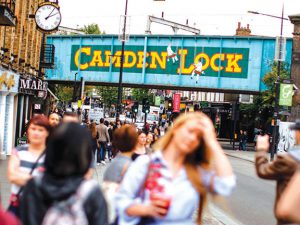 Bloomberg
Property sellers are seeking sharply higher prices across north London as young professionals return to jobs in the capital after the pandemic, a survey showed.
Asking prices for homes in Camden surged 17.2% from a year ago and by 6% in the past month alone, the property search website Rightmove said Monday. Barnet and Islington notched up annual gains of about 8%.
Known for its chaotic market and steampunk aesthetic, Camden is a draw for those seeking trendy entertainment spots and long established pubs — as well as green spaces such as Primrose Hill and Regent's Park. Property there trails only the richest boroughs of Westminster, Kensington and Chelsea.
"It's amazing how much some of these young professionals have to spend," said Simon Ward, senior sales consultant at the Camden branch of estate agent Dexters.
Asking prices in Camden, at an average of £1.16 million, are comparable with £1.4 million in Westminster and £1.64 million in Kensington & Chelsea.
Barnet and Islington are nearby for those unable to afford the prices in the leafier parts of Camden, which includes the well-heeled area around Hampstead Heath. The richer boroughs meanwhile are toward the bottom of the table for rises in London asking prices, with an annual gain of just 0.7% in Westminster and a drop of 2.2% in Kensington and Chelsea.
Rightmove's data contrasts with separate reports showing the prices achieved at the point of sale are falling in many places, including Camden. Acadata said Camden prices fell 4.2% from a year ago to £1.2 million in December. That also could point to a widening gap between the expectations of sellers and what buyers will pay for.
Asking price data is more forward looking and may also point to lingering strength in the national housing market, where soaring mortgage rates have strained affordability. A lack of supply of new properties for sale has helped prop up prices.
Rightmove said asking prices across the nation were unchanged in February after a sharp increase in January. Mortgage lenders last month said prices across the country notched up their longest losing streak since 2008. This had led to gloomy predictions of a plunge in prices, with some penciling in a peak-to-trough fall of more than 10%.
But rather than seeing a steep slide in house prices, Rightmove's Director of Property Science Tim Bannister now expects a "transitioning towards a more normal level of activity after the market turbulence at the end of last year."
February is usually a time when new sellers come to the market seeking higher prices, and Bannister said the latest data showed vendors "breaking with tradition and showing unseasonal initial pricing restraint" as conditions demanded "greater realism on price."
Yet while rising interest rates have made mortgages more expensive, pressures in the rental market mean it's increasingly cost-effective for tenants to buy a house if they can afford the deposit. Average rates for a 15% deposit five-year fixed mortgage are now 4.82%, down from 5.9% in October, Rightmove said.
"The lettings market is so expensive, and it's so competitive, that it makes more sense to buy," Ward said. "Mortgage rates were at a staggeringly unattainable level last September/October" in the aftermath of the budget set out during Liz Truss's short tenure as prime minister.