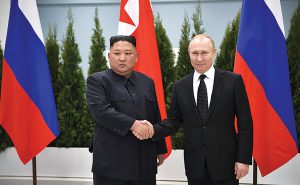 Bloomberg
North Korea denied it sold weapons to Russia in an unusually direct statement, and blasted the US over "rumors" that Kim Jong Un's regime was aiding Vladimir Putin's war in Ukraine.
"We have never exported weapons or ammunition to Russia before and we will not plan to export them," the state's official Korean Central News Agency reported Thursday, citing an unnamed vice director general in the Defense Ministry's General Bureau of Equipment.
"We condemn the US for thoughtlessly circulating the rumor against the DPRK to pursue its base political and military aim, and we warn the US to stop making reckless remarks pulling up the DPRK and to keep its mouth shut," the official said, referring to the country's formal name —the Democratic People's Republic of Korea. He added North Korea still had the right to make the sale.
Earlier this month, US officials said Russia wants to buy millions of rockets and artillery shells from North Korea to use in its war against Ukraine, the latest sign that international sanctions are forcing Moscow to seek help from the nation's smaller, impoverished neighbor. The UK then said in a Defence Intelligence report that Russia was "almost certainly increasingly sourcing weaponry" from other sanctioned states like North Korea.
Any shipment would be a violation of United Nations sanctions put in place on both countries for military activities. They would also likely be picked up by spy satellites trained on an 11-mile (17-kilometer) strip of land that connects North Korea and Russia, where a rail link that has been closed since the Covid pandemic emerged would likely be used to transport munitions across the continent, and near to the front in Ukraine.
Neither the US nor its allies have presented evidence that weapons have been sent over the border. Shipments by sea run the risk of interdiction.