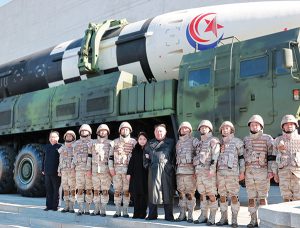 Bloomberg
Russia's hunt for weapons to fire at Ukraine could provide a lifeline for North Korea, where even a relatively modest arms deal would help lift the country's cash-starved and stagnant economy into growth.
The US made fresh accusations this month that Kim Jong Un is providing arms and ammunition to aid Putin's war, including sending shells and rockets. While the Biden administration said the weapons won't do much to alter the battlefield, the sales would open a new stream of revenue to a country isolated from much of world trade.
While North Korea has denied the US allegations of the arms transfers, any such deal would be well timed for Kim. His border closures during the pandemic pushed North Korea's already anemic economy into one of its biggest contractions in decades. North Korea's economy failed to grow in 2021 and faced uncertain prospects last year, according to the Bank of Korea in Seoul, one of the few entities to produce regular assessments of the country's outlook. Meanwhile, Kim's seemingly lucrative forays into crypto-currency theft may now be facing a squeeze after the collapse of digital-asset exchange FTX.
One thing Kim does have in abundance is weaponry, especially the crude 20th-century artillery experiencing something of a revival on the frontlines of Ukraine. North Korea possesses untold stores of munitions to supply what the International Institute of Strategic Studies estimates is an arsenal of more than 21,600 artillery pieces, a force that has for decades held Seoul under the threat of Mariupol-like devastation.
"North Korea would grab with both hands an opportunity to get rid of aging stocks of legacy munitions at a significant markup," weapons expert Joost Oliemans said. The regime has produced a "myriad" of older, towed artillery designs that are compatible with some Russian systems, said Oliemans, who co-authored the book The Armed Forces of North Korea.
The US hasn't provided details on the amount of weapons it believes North Korea has sent to Russia. But the Biden administration said when it first made the accusations in September the Kremlin wanted to buy millions of rockets and artillery shells.
National Security Council spokesman John Kirby told a news briefing about a week ago there was evidence the Wagner Group, a paramilitary organization heavily involved in the effort to capture the eastern Ukrainian city of Bakhmut, was receiving deliveries of North Korean and equipment. He displayed two photographs that purported to show Russian rail cars traveling to North Korea.
"We obviously condemn North Korea's actions, and we urge North Korea to cease these deliveries to Wagner immediately," Kirby said, pointing out the benefits to Kim's regime for the transfers. "Let's keep it in perspective. This is not a burgeoning economy," he said.
Some North Korean items on likely on Putin's wish list would be 122-millimeter and 152-mm artillery rounds as well as 122-mm rockets, Oliemens said. The price for 122-mm rockets was about $6,000 a few years ago, he said, adding it was difficult to get prices for the items North Korea might be sending.
A major deal could be worth hundreds of millions of dollars, Oliemens said, adding, "it would make sense for Russia to first acquire smaller batches first," and assess their quality and effectiveness before committing to a larger purchase. It wouldn't take much — payments totaling less than $320 million — to add 1% to North Korea's gross domestic product.
A State Department spokesperson declined to comment on any potential economic boost that North Korea is seeing from munition sales to Russia, but said the US remained concerned that Pyongyang will deliver more military equipment to the Wagner Group.