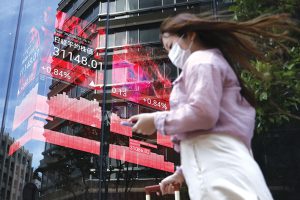 BLOOMBERG
Japanese stocks fell after the Nikkei 225 Stock Average's short-lived pop to a fresh 33-year high. Automakers including Mazda Motor Corp led the decline on the stronger yen.
The Nikkei rose as much as 0.8% on Monday to the highest since March 1990, before reversing course and declining 0.6% to 33,388.03 at the market close in Tokyo. Exporters led losses in the Nikkei and the broader Topix benchmark as the yen strengthened slightly after hitting its 2023 low earlier this month.
Traders are in a wait-and-see mood given holidays in both Japan and the US later in the week, and ahead of Nvidia Corp's earnings on Tuesday likely to provide a cue for tech stocks, said Hirokazu Kabeya, chief global strategist at Daiwa Securities Co. There's a lack of positive news that would enable a Nikkei climb to 34,000, he said.
Among the stocks that led the early increases were Tokio Marine Holdings Inc, which announced strong earnings and a share buyback, and Panasonic Holdings Corp, which is considering listing its auto-related business.
The Nikkei has gained about 28% this year, buoyed by an extended period of weakness in the yen, solid company earnings and corporate governance reforms championed by the Tokyo Stock Exchange. The gauge capped its third-straight week of gains on Friday, its longest such win streak since June. An extra push came from soft US inflation data that bolstered bets that the Federal Reserve's aggressive tightening is over.