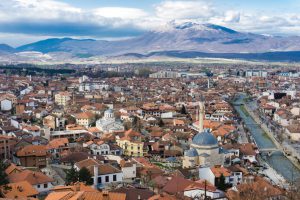 BLOOMBERG
Nato-led peacekeepers beefed up their presence in northern Kosovo, where police clashed again with Serb protesters days after an uptick in violence raised fears that a conflict could reignite between the Balkan neighbours.
Kosovo's mostly ethnic-Albanian police forces used pepper spray in response to tear gas hurled by hundreds of ethnic-Serb demonstrators on Monday who tried to block access of officials to municipal buildings in Serb-dominated towns.
The arrival of the Nato-led peacekeeping force, known as KFOR, follows an escalation in violence— the worst this year — between Kosovo authorities and the Serb minority, as protesters tried to block newly elected ethnic-Albanian mayors from reaching their offices.
"We call on all sides to refrain from actions that could inflame tensions or cause escalation," KFOR, which has been deployed in Kosovo after the 1998-99 war between Serbs and ethnic Albanians over Kosovo, said in a statement.
The flareup imperils a European Union-brokered, US-supported plan for the Balkan neighbours to normalise relations. KFOR urged the governments of Serbia and Kosovo to engage in the dialogue to reduce tensions.
Following the clashes, the US and top European allies condemned Kosovo's government for what they said were actions that provoked the unrest.
The clashes erupted when the mayors tried to access their offices against the recommendation of US and EU mediators. The officials had been elected in a local ballot in April that Serbs boycotted and called invalid.
Serbia's army remained on high alert, a status ordered by President Aleksandar Vucic, when he sent an unspecified number of units moved closer to the border with Kosovo. He took similar steps last year when recurring tensions in Kosovo near the border nearly lapsed into fighting.
Schools in the Serb-populated areas of Kosovo were also closed on Monday, Zvecan's former Serb mayor, Dragisa Milovic, said in live broadcast from the town.
The government in Belgrade refuses to recognise Kosovo as a country, and rejects its 2008 split from Serbia — a sticking point that is blocking both countries' efforts to join the EU.
Western envoys have sought to defuse the dispute for years, without success.
They have intensified those efforts again after Russia attacked Ukraine.