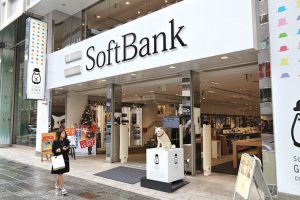 BLOOMBERG

Nasdaq Inc may be the coveted destination for tech companies looking to go public. But the exchange had to pull out all the stops to lure chip designer Arm Ltd, likely to be the largest initial public offering of the year.
The proposed listing sparked a remarkable, behind-the-scenes scrum involving heads of state, exchange officials and the billionaire founder of SoftBank Group Corp, and was furiously contested across three continents for months. Nasdaq Chief Executive Officer Adena Friedman and her team ultimately triumphed with a proposal that included a stunning $50 million joint marketing package and guidance on inclusion in the Nasdaq 100 index.
She and her Nasdaq colleagues had to step up to fend off stiff competition from British Prime Minister Rishi Sunak and supporters of a dual listing with the London Stock Exchange, as well as a surprisingly aggressive, last-ditch effort from New York Stock Exchange President Lynn Martin, the people said.
Such heated interest in the semiconductor company's debut is a sign of growing interest in the technology — especially amid a shortage of strong IPOs. SoftBank, which owns Arm, is testing investor appetite for raising as much as $10 billion in the IPO, Bloomberg has reported.
"It helps Nasdaq's image," said Owen Lau, an analyst with Oppenheimer & Co. "The IPO market has been pretty dreadful since last year. And people were looking for a catalyst, for a high profile deal that could jump start the market."
While Nasdaq is often considered the premier destination for tech debuts, the NYSE attracts many of the bigger IPOs from established companies. Of the 10 largest tech IPOs in the US over the last decade, seven of them went to the NYSE, including Uber Technologies Inc and Snap Inc.