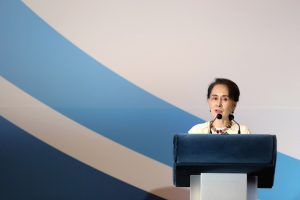 BLOOMBERG
Myanmar's military government dissolved the National League for Democracy (NLD), the pro-democracy party of Aung San Suu Kyi, after it failed to register as a political entity for upcoming elections.
The Union Election Commission said 63 political parties, including 50 existing parties, have applied for registration to compete in the general elections the military is planning. The NLD was among 40 parties that failed to submit an application within the 60-day deadline required under a new law. The commission said it will continue to accept applications for establishment of new parties, without elaborating.
The new law, enacted on January 26, allows for automatic disqualification of a party from an election and dissolution if it fails to register. Political organisations had until March 28 to list their names with the poll panel. Major General Zaw Min Tun, lead spokesman for the ruling State Administration Council, was earlier quoted by the state broadcaster saying that all existing parties must comply with the law.
The NLD's Central Working Committee said in a statement posted on Facebook that it had unanimously decided to boycott the junta's elections. It called for the immediate release of its top leaders including Suu Kyi and former President Win Myint.
Myanmar's military regime has been unable to stabilise the country since seizing power in a 2021 coup. It has struggled to combat a faltering economy and is also contending with a reinvigorated civil conflict with ethnic armed groups, which it's now fighting on multiple fronts.
Junta chief Min Aung Hlaing justified the military takeover by alleging widespread fraud in a November 2020 election, in which Suu Kyi's party won more than 80% of available seats. Independent election monitors found no major irregularities.
The military had planned to hold elections by August this year, but the date became unpredictable after emergency rule was extended by another six months. Still, Min Aung Hlaing recently reiterated his pledge to hold general elections at a parade in Naypyidaw. The planned election has been dismissed as a "sham" by the United Nations and the US.
Japan's foreign ministry on Wednesday expressed "serious concern" over the NLD's dissolution, which spokeswoman Hikariko Ono said would "make it even more difficult to improve the situation." The US and its European allies have, meanwhile, pursued several rounds of sanctions against the regime, including targeting the junta's aviation fuel supply. The US is further weighing sanctions against the state-owned Myanma Oil and Gas Enterprise in a bid to choke funding, people with direct knowledge of the matter recently said.