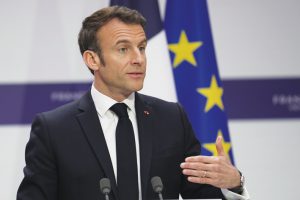 BLOOMBERG
The French government survived two no-confidence motions late Monday to enable the immediate adoption of President Emmanuel Macron's unpopular pension reform bill without holding a full vote in parliament.
In a tighter than expected count, the first motion got 278 votes, only nine short of the 287 needed to topple Prime Minister Elisabeth Borne. The second got 94.
"We have gotten to the end of the democratic path of this essential reform for our country," Borne said on Twitter. Macron will speak on television at 1 pm on Wednesday.
The reform, which includes raising France's minimum retirement age by two years to 64, is now ready to be signed into law, although it faces continued pushback from opposition lawmakers and further street marches, which turned more violent in recent days.
Hundreds were arrested after the votes for vandalising public property, attacking police officers and setting fire to piles of trash that have been mounting for two weeks in many cities as garbage collectors strike. A fresh day of nationwide strikes has been called for Thursday.
The no-confidence motions were filed by opposition parties in an attempt to overturn Macron's decision to use a constitutional provision — known as Article 49.3 — to bypass a vote in the National Assembly.
The government resorted to the provision after it became clear the reform lacked enough votes to pass. If one of the no-confidence votes had been successful, the bill would have been nullified and Borne would have had to resign.
While the outcome brings some relief for Macron and essentially closes the political discussion on the bill, pressure is expected to continue in the legislature and in the streets.
Opposition parties are already resorting to other means at their disposal to try to derail the reform. The constitutional council said it received a request for a public referendum on the new legislation, though that would require a complex combination of parliamentary and voter endorsement that would take months.
Another option being considered is a request for the council to review the new legislation, which could lead to tweaks or to the nullification of the bill.
Besides a wave of strikes and protests that has been going on for weeks, the pension reform also raises concerns of fuel shortages.
Macron's reform push was made more difficult after he lost an absolute majority in the lower house of parliament last year.
His government has tried to secure the support of the conservative Republicans, who have traditionally backed increasing the retirement age, but senior members of the party have publicly blasted the pension overhaul since the protests began in mid-January.