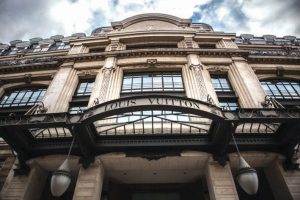 BLOOMBERG
European luxury stocks including LVMH and Gucci owner Kering SA fell as a wave of Covid infections in China weighed on sentiment — extending a rout that's wiped about $56 billion from the sector over the past two days.
Shares in Birkin bag maker Hermes International and UK trench coat company Burberry Group Plc also declined, with concerns about China — a key market for luxury companies — adding to worries about a possible economic slowdown in the US. China expects to see Covid infections peak at about 65 million a week towards the end of June.
This week's slump follows a great year for the sector, with many luxury companies posting stellar results in the latest earnings season. "Luxury specifically may be affected by the perception that there are few near-term catalysts after a strong run of performance," said Swetha Ramachandran, lead manager of the GAM Luxury Brands Fund. The sector "is caught in the middle of a selloff in quality growth stocks."
Luxury stocks have outperformed year-to-date, with share-price gains of more than 30% for Hermes and more than 20% for Richemont, the Swiss jewellery maker that owns the Cartier brand.
"The aggregate sector valuation looks rich relative to history," Rogerio Fujimori, an analyst at Stifel, wrote in a note on Wednesday. "We still see the sector moving sideways until US macros improve."
Wednesday's decline follows a slump on May 23 after analysts at Morgan Stanley highlighted that companies attending a luxury conference in Paris were "relatively more subdued" about their performance in the US.
Chinese stocks wipe out 2023 gains
China's benchmark stock index erased all its gains for the year as a weaker yuan and developers' debt woes added to persistent worries over growth and geopolitics.
The CSI 300 Index closed down 1.4%, with the energy and financial sectors leading the decline. The benchmark is among the worst performers in Asia this year, compared to a more than 3% advance in the MSCI Asia Pacific Index and double-digit gains in key gauges for Japan, South Korea and Taiwan.
Chinese stocks have steadily fallen out of favour since a reopening rally fizzled at the end of January, belying bullish conviction calls from Wall Street analysts at the start of 2023. Weaker-than-expected economic data have prompted banks from JPMorgan Chase & Co to Barclays Plc to slash their growth forecasts, while worries over worsening ties with Western countries have also hurt sentiment.
Developers' financial woes were again in focus, with a number of local government financing vehicles struggling to repay debt on time. A Bloomberg gauge of Chinese builders shed more than 2%, falling for the 11th session in its longest such streak since 2018.
The Hang Seng China Enterprises Index of Chinese firms listed in Hong Kong slid 1.9% on Wednesday, while a gauge of technology stocks lost 2% to close at its lowest since late November.
"It looks like it's going to be a gruelling year," said Dai Yuzhong, a fund manager at Shanghai Shinyu Private Fund Management Co. "The pessimism in the market is spreading, and negatives ranging from the yuan losing the 7 level to worries about LGFV payment are putting investors on the defense."
Outflows from foreign investors continued. They offloaded 4.5 billion yuan ($635 million) after a $1.1 billion selloff via trading links with Hong Kong.
Tensions between China and the US have heated up as Beijing banned purchases of Micron Technology Inc's products on national security grounds, which ignited accusations of over-reach from US officials.