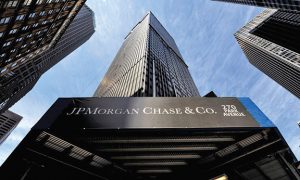 Bloomberg
JPMorgan Chase & Co was ordered by a London judge to give a trader that it fired during a market spoofing probe a near $600,000 job at the investment bank.
The bank must rehire Bradley Jones, a cash equities trader, who won his unfair dismissal case earlier this year. Jones successfully argued that he was only fired because the bank wanted to show it was taking a tougher line on a spoofing scandal that cost it close to $1 billion in penalties and asked for reinstatement into the same or a similar role.
Judge Stephen Knight refused to order the bank to reinstate Jones into the same role he'd been dismissed from in London, but said the bank must re-hire him into a similar role in Hong Kong, which would see him trading equity derivatives. Jones had previously identified that role as being appropriate for him, while JPMorgan had argued that the complexity of the role would "create risk and jeopardy for the bank" if Jones was to take the job.
The job would provide him with between $400,000 and $600,000 a year, according to court documents.
JPMorgan has until March 10 next year to comply with the tribunal's order. While UK employment judges can order a firm to rehire staff, companies have the power to refuse to comply. Whatever JPMorgan decides, it will still be left having to pay Jones his backdated salary and compensation since the time of his dismissal in
January 2020.
By asking for their job back, fired employees can possibly reap greater compensation than the near 90,000 pound ($118,800) awards to which employment tribunals are limited. In 2019, Barclays Plc agreed to pay nearly 1 million pounds to a former employee but didn't follow part of the court order that required it to offer him a new job.
JPMorgan will have to pay Jones $548,500 in total compensation for 2019 — a lower amount than Jones had argued for. The bank will have to pay him increased salary and compensation for the following two years and make a slightly reduced payment in respect of his unvested employee stock-based compensation.
The total amount he's to be awarded will be agreed at a later date.