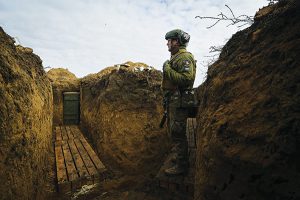 Bloomberg
Ukraine's government expects Russia's new offensive to start this month, defense minister Oleksii Reznikov said at a press briefing in Kyiv. The one-year mark of Moscow's invasion of its neighbor will be Feb. 24.
Reznikov said the main directions of Russia's attack are likely to be from the east and south. He discounted the possibility of an invasion from the north, saying Ukraine doesn't see signs of Russia amassing a large enough strike force there.
Ukraine is amassing reserves ahead of Russia's expected offensive, he said.
Meanwhile, Chancellor Olaf Scholz dismissed concerns that Germany's supply of battle tanks could make his nation an active party to the war with Russia. Western allies also have a "consensus" with Ukraine's leader that weapons provided to Kyiv will not be used to attack Russian territory, he said.
"We have carefully weighed every arms shipment [to Ukraine], coordinated them closely with our allies, first and foremost with the United States," Scholz told Bild. "This joint approach prevents an escalation of the war."
Scholz said there was a "consensus" involving Ukrainian President Volodymyr Zelenskiy that weapons provided by Western allies would not be used to strike Russian territory.
At least two missiles launched from Belgorod in Russia struck residential areas and a university building in Ukraine's northeastern city of Kharkiv early Sunday, causing extensive damage and wounding at least five people. The UK assessed that Bakhmut in Donestsk, the scene of months of fierce fighting, is increasingly isolated by Russian advances.
Ukraine's Black Sea port city of Odesa and the surrounding area are still struggling with power outages, the energy group DTEK said. Over the past day, Ukrainian troops repelled assaults near 9 settlements in the Luhansk and Donetsk regions in the east, Ukraine's General Staff said on Facebook.