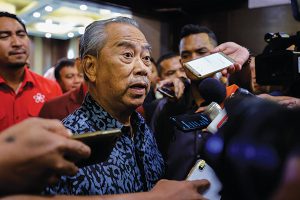 Bloomberg
The search for Malaysia's next leader hit a snag when former ruling coalition Barisan Nasional said it will stay out of any new government and become part of the opposition instead, prolonging the uncertainty after the weekend's inconclusive vote.
The move deprives both Anwar Ibrahim's reformist group and ex-premier Muhyiddin Yassin's pro-Malay alliance the support they require to form a new administration. No single coalition won a simple majority on Saturday's election, and BN could have broken that stalemate by backing one over the other.
"Barisan Nasional's supreme council has decided not to support either coalition to form government," outgoing prime minister Ismail Sabri Yaakob said in a tweet. "At this point BN agrees to remain as the opposition."
In a statement later Tuesday, Barisan Nasional said it had informed the king that none of its lawmakers backed Muhyiddin as prime minister, adding the coalition is open to talks with "related quarters" to ensure a new government can be formed.
Barisan Nasional announced the decision after a 2 p.m. deadline for party leaders to present their plans for the new government and premier to the king. According to the constitution, King Sultan Abdullah Sultan Ahmad Shah will now have to appoint a prime minister he believes enjoys the confidence of the majority.
BN's decision is a blow for longtime-opposition leader Anwar especially, who on Monday said he was optimistic of heading a coalition government with BN. Anwar said he was extremely pleased after meeting with leaders from the former rival party. Others were less so, however.
"We don't need to grovel to be in the government," said Annuar Musa, a former BN minister. "Umno should not have to become beggars for anyone. If PH or PN want to collaborate and the prime minister is from Umno, then maybe it's something we would support."
Anwar may still get a chance to become prime minister should BN, as well as the coalition parties in Borneo island, abstain from naming anyone to the king.