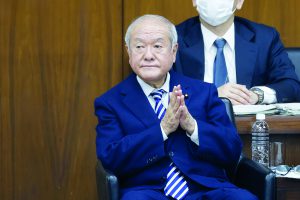 BLOOMBERG 
Japanese banks have little risk of facing a situation like Credit Suisse Group AG's recent Additional Tier 1 (AT1) bonds wipeout, Japan's finance minister reassured onlookers who may be concerned about their holdings.
Finance Minister Shunichi Suzuki said in parliament that Japanese banks' AT1s do not have a clause which recently triggered $17 billion worth of junior debt being wiped out at the European bank.
While Credit Suisse's prospectus made clear there is the possibility of a wipeout when there is what's known as a writedown event, Suzuki emphasized this covenant doesn't exist for AT1 bonds issued by Japanese banks.
Japanese banks are generally seen to be adequately placed to withstand a banking crisis, due to their solid balance sheets. Their sticky deposits and access to dollar funding also cap fears of falling into a situation like the
European banks.
Suzuki added that the direct impact from Credit Suisse's AT1 bonds on Japan is likely to be limited, as Japanese financial institutions have not invested much in those products. The minister also said that Japanese banks have ample liquidity and capital, and the financial system as a whole is stable.
Still, given the various risks, the Financial Services Agency will keep a close eye on developments in cooperation with various authorities including the central bank, Suzuki said.