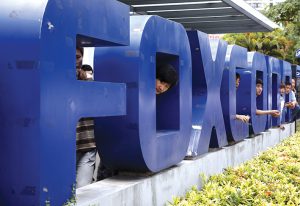 BLOOMBERG
Apple Inc partner Foxconn Technology Group plans to invest about $700 million on a new plant in India to ramp up local production, underscoring an accelerating shift of manufacturing away from Beijing as US-China tensions grow.
The Taiwanese company, also known for its flagship unit Hon Hai Precision Industry Co., plans to build the plant to make iPhone parts on a 300-acre site close to the airport in Bengaluru, the capital of the southern Indian state of Karnataka.
The factory may also assemble Apple's handsets, and Foxconn may also use the site to produce some parts for its nascent electric vehicle business. Apple declined to comment.
The investment is one of Foxconn's biggest single outlays to date in India and underscores how China's at risk of losing its status as the world's largest producer of consumer electronics. Apple and other US brands are leaning on their Chinese-based suppliers to explore alternative locations such as India and Vietnam. It's a rethink of the global supply chain that's accelerated during the pandemic and the war in Ukraine and could reshape the way global electronics are made.
Hon Hai Chairman Young Liu, who met India's Prime Minister Narendra Modi this week, did not comment on a possible Karnataka investment in a statement outlining his visit.
The new production site in India is expected to create about 100,000 jobs, the people said. The company's sprawling iPhone assembly complex in the Chinese city of Zhengzhou employs some 200,000 at the moment, although that number surges during peak production season.