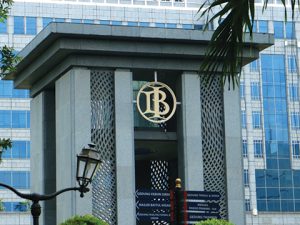 Bloomberg
Indonesia's central bank held its benchmark interest rate at a record low again, saying inflation remains manageable as it cemented its place as an outlier on monetary policy.
Bank Indonesia left the seven-day reverse repurchase rate unchanged at 3.5%,
as predicted by 24 of 33
economists surveyed by Bloomberg. The rest expected policy makers to kick off the monetary tightening cycle with a 25 basis-point hike.
The move sets Indonesia apart from most central banks, which have begun raising borrowing costs to counter surging inflation. While domestic price gains are set to breach the central bank's 2%-4% target this year, it has maintained that there's no rush to tighten as state subsidies and higher reserve requirements are helping manage price pressures.
Governor Perry Warjiyo said inflation will continue to rise, but should remain under control. The monetary authority sees consumer prices returning to target next year.
The rupiah's reaction was muted, and the currency traded around 0.2% stronger against the dollar after the widely expected decision, while the Jakarta Composite Index was little changed.
It is "not a surprise given recent continued pronouncements that inflation has been more supply-driven rather than demand-led," said Wellian Wiranto, an economist at Oversea-Chinese Banking Corp. "Although the governor's comments have focused a tad more on inflation risks than before, its stated point that inflation should remain manageable means that it is not ready to hike policy rate in the near term."
Still, the extended pause leaves Indonesia's currency vulnerable in the face of accelerated rate hikes by the Federal Reserve and European Central Bank. The rupiah has weakened amid the dollar's strength, with the local currency losing about 4% so far this year.
The central bank said it will support the currency in line with fundamentals, and that the pressure on the rupiah was in line with regional currencies. It sees the economy expanding 4.5%-5.3% in the current year, even as it flagged risks to global growth.