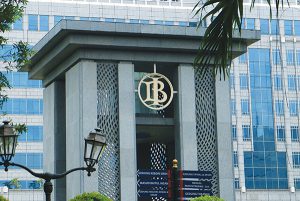 Bloomberg
Indonesia's central bank could settle for quarter-point moves at its upcoming policy rate meetings after September inflation came in lower than estimates despite the fuel price hike, economists said.
Maybank Investment Banking Group trimmed its forecast for Indonesia's 2022 average inflation to 4.5% from 5.2%.
To be sure, the increase in transport fares and the rebound in consumer demand should keep price gains elevated in the coming months, before peaking at 6.5% in early 2023, Citigroup Inc. economist Helmi Arman said. He expects Bank Indonesia to raise the key rate by 25 basis points at each of its October and November meetings.
"While we do not think that it will move by similarly big increments in the coming meetings – especially if the currency volatility stays relatively contained – we do think that more tightening is to come," said Oversea-Chinese Banking Corp.'s Wellian Wiranto, who also sees quarter-point hikes through January.
Bank Indonesia can opt for slower pace
of rate hikes in the
absence of Federal
Reserve rate meeting this month.
Core inflation — an indicator closely watched by the central bank —remained largely stable at 3.2% in September, indicating that consumer demand is "still relatively sluggish."
While the full impact of the fuel price hike has yet to be borne out, the inflation spike should be "mostly expected" and would require "nothing extraordinary relative to previous rate hike cycles" when it typically tightened policy by 150-175 basis points.