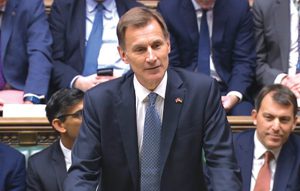 Bloomberg
Chancellor of the Exchequer Jeremy Hunt dismissed calls for tax cuts and pushed back against green energy subsidies, warning that "sound money must come first" as he argued that Brexit will drive UK economic growth.
In an interview with Bloomberg TV, Hunt said: "At the moment, we don't have the headroom for major cuts. Businesses want that, who wouldn't? But what businesses want even more is stability."
Hunt was speaking at Bloomberg's European headquarters in London, where he made it clear that fiscal constraints will make it hard to find space for business tax cuts to boost investment in the upcoming budget on March 15. That would be his priority if the Treasury finds any headroom, Hunt said.
With no money available for giveaways, the chancellor also pushed back against US and European plans to subsidize green industry, which threaten to divert investment from the UK.
Business Secretary Grant Shapps has said there is a "dangerous" risk of the world sliding towards protectionism, and Hunt repeated the warning, saying "we do have concerns."
"I don't think subsidies are necessarily the best way," he said. "We should benefit from free and open trade between countries that share that [net zero] ambition."
The Biden administration has earmarked around $400 billion for subsidies under its Inflation Reduction Act, while the European Union is looking at a response totaling several hundred billion euros that will involve relaxing state aid rules.
Hunt signaled that UK companies can be leaders in green technology without the help of government subsidies. He said he would seek to use freedoms secured by leaving the European Union to tackle a crisis in economic inactivity and improve sluggish growth figures.
While saying that Britain needs lower taxes, the chancellor said that reducing inflation should be the first priority.